No Teams? No problem! Microsoft Teams doesn't require you to have an account in order to join meetings. You can join as a guest and still get the information you needed! Microsoft Teams is being used by many organizations around the world. However, not everyone needs an account in order to use the tools Microsoft offers.
Joining Teams meetings is easier than you think, and here's how.
Check your email for the Teams Meeting
Click on the link at the bottom of the email that says "Join Microsoft Teams Meeting"

You can also accept the invite to add it to your calendar in your email

Open Teams on the web or download the program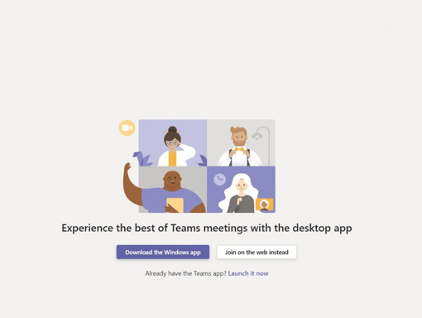 If you choose to join the web-based version, your browser will ask for permission to use your webcam and microphone. This ensures you will be seen and heard during the meeting

Once launched, enter your name and choose your audio and video settings. Then select the "Join Now" button
Lastly, you will be put into a meeting lobby. The meeting organizer will be notified that you are there and you will be admitted in.
While Microsoft Teams has plenty of other features that can benefit you and your company, video calls are still a beneficial resource you can use without an account